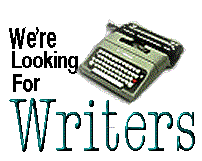 ---
Submission Policy
Please read carefully before submitting your work.
Yes...we do accept unsolicited submissions.
We currently do not have a budget so...if you're looking to make your fortune here...you've come to the wrong place. BUT...this is a great opportunity for you to get your work published and read by many, which could be a tremendous stepping stone!
You may submit an article or a blog (weblog).
1. Anyone is free to submit an editorial but we are especially interested in those who are serving or who have served in the armed forces.
2. We are more interested in quality and poignant opinion rather than experience alone.
3. We are looking for strong pithy opinion pieces that should be between 500-750 words for articles and 100-150 words for a blog.
4. Please submit your work as a WORD document attached to your email.
5. Please attach your work with a 'working title' which we reserve the right to change if necessary.
6. Please include a few bio lines about yourself to be placed at the end of the article.
7. If you have not heard from us in 10 days following a submission, please don't be discouraged...it's just not what we're looking for right now, BUT feel free to try again!
8. Please send your submissions here:
Thank you for taking the time to share your work with us.
The Ediblog.com Staff