Ediblog.com
---
Audrey's Blog for May 2010
---
Memorial Day 2010
May 31, 2010

Please click on link above to view full image.
Comments: audrey@audreyrusso.com
---
Religious Left: On The Lunatic Fringe
May 26, 2010
There has been a malevolent movement that has been creeping across our nation for some time now...it's insidious in its facade...and diabolical in its goals. And it cloaks itself in purity...
The emergence of the Religious Left appeared during the campaign of the last presidential election. They appeared to be Christian in word, but if one peaked under the sheep's clothing, one would find a sharp, merciless, bite.
One of the characters of this movement is the infamous (in my book) Tony Campolo. His positions on hot button issues have been dubious for a few decades now, but his recent 'tour' and message has riled this observer to go verbally postal...
His recent tour stop was at Bethlehem Bible College in the West Bank for the school's assembly of "Christ at the Checkpoint: Theology in the Service of Peace and Justice." This school promotes a form of 'Palestinian' liberation that is highly approved of by the Religious Left. A contingent that isn't exactly opposed to violence toward Israel.
The other cohorts at this concert of creeps includes:
British anti-Israel Anglican priest Stephen Sizer, and Naim Ateek of the Sabeel Ecumenical Liberation Theology Centre. The latter is a driving force behind the campaign by mainline Protestant churches to divest from Israel.
Nice, Tony...did you bring your trident too?
Is Campolo free to speak his mind? Sure. BUT, as a representative of the God of the Bible, he has to adhere to those doctrines...and they DON'T include demonizing God's Chosen to accommodate the enemies of God.
The propaganda spewed by Ateek and his ilk have their foundation, NOT in the Judeo-Christian Bible, but rather in the Quran and Hadiths. And Campolo ostensibly approves of this.
Shame on Campolo for his abominable behavior toward the Apple of God's Eye. But my rebuke will be met with arrogant disregard...because people like Tony Campolo no longer HAVE a conscience to be pricked.
Comments: audrey@audreyrusso.com
---
Aussie Aberration
May 25, 2010
The Australian (Aussie) people have been straight and unequivocal, in the past, about Muslims imposing their radical ways upon their lifestyle. But their government's position is the antithesis and quite baffling...
In 2005, Federal Treasurer Peter Costello who actually uttered the comments:
"There are Islamic states around the world that practise Sharia law," he said. "And if that is your object, you may well be much more at home in such a country than trying to turn Australia into one of those countries, because it is not going to happen."
In another article, concerning former PM John Howard, the news source The Age, notes:
Mosques and Islamic schools will be targeted by intelligence agencies as the federal government tries to stamp out homegrown terrorism and extremists.

Prime Minister John Howard said on top of trying to promote Australian values in Islamic schools, the government would monitor what was said in certain schools and mosques to ensure they did not foster terrorism.

Asked whether he was prepared to "get inside" mosques and schools to ensure there was no support for terrorism, Mr. Howard was blunt.

"Yes, to the extent necessary," Mr. Howard told Southern Cross radio.
But under the current Kevin Rudd administration, Foreign Minister Stephen Smith has asked Israel to withdraw a diplomat after an investigation found the country culpable for the slaying of a Hamas operative in Dubai. Smith told Parliament that Israel's conduct was not the actions of a friend.
Really? I would consider someone who eliminated a psychotic murderer, the truest friend of all. The dirty work always seems to be left up to Israel, and yet when the work is done, instead of thanks, they receive reprimand, rebuke and punishment.
Is Smith Mashugganer? Hmm...I guess that's what happens when you spend too much time wearing your Uggs...
Here's the dichotomy of the Aussie government...Australia considers Hamas' independent military wing, the Izz ad-Din al-Qassam Brigades, to be terroristic, but accepts that Hamas does have legitimacy.
Legitimacy? On what basis? So Hamas is a little bit terrorist? A little leaven leavens the whole lump, right?
This division of wings in Hamas is as bogus as the division of political and religious Islam. Muhammed created both as inseparable. So it is with Hamas. There is only ONE wing...and the heart of it bleeds hate.
The Aussie citizenry knows this. Perhaps their government should pay attention to facts a wee bit more and they just might become our intrepid friends down under...*Hooroo!!
Shalom through strength...
*Hooroo - Aussie slang for 'goodbye'.
Comments: audrey@audreyrusso.com
---
Making Nice For A Price
May 21, 2010
November's coming...the Dems not only know it, they feel it. They feel it in the anger they've provoked by their elitist, nanny-state mentality that has put the American people in debt far beyond their years. But the Dems have a plan...
They don't want to, but they're gonna make nice...
Since in office, Obama has gone out of his way to offend the Jewish State...partly in an effort to woo the Muslim world, and partly by his personal aversion to Jews (i.e. voluntarily attending an anti-Semitic congregation for 20 years). But now, that it's looking extremely grim for the Dems, and the tsunami is headed their way...they are now desperately trying to salvage what they can to prevent too great a loss at the polls.
And now, as they did in the last election: They're using the Jews again.
In an effort to make amends, Obama has unexpectedly reversed his frosty treatment of Israel and its PM Binyamin 'Bibi' Netanyahu. O sent his top advisers, including his chief of staff Rahm Emanuel, with a form of an apology to leading American Rabbis. Additionally, US Middle East envoy George Mitchell has been directed not try and extract more concessions, from Israel.
Aww...O is soooo sweet, isn't he?
Emanuel was the most candid when he said that the Obama administration had "screwed up the messaging" about his support for Israel since the beginning of his term. He pledged that the White House would work to undo the damage, but said it would take "more than one month to make up for 14 months."
Um...that would be 485 days of dissing vs. 31 days of making nice...uh, not enough, ya think? (Personal note: It could be 1,000 days of O making nice and it wouldn't be enough...to make me hurl? Yes...to even the score? No.)
In other words...the election is getting closer and we need to schmaltz it up with the Jews!
My brethren on the left better wise up. Remember: Fool me once, shame on you. Fool me twice, shame on me. O and his ilk are only being nice to Israel to get your vote again, but they are lying to you...
Don't be a fool, again!
Shalom through strength...
Comments: audrey@audreyrusso.com
---
Islam: The Original He-Man Woman Haters Club
May 19, 2010
Ah, the innocence of youth (which has methodically been disintegrated by the entertainment industry, but that's for a another discussion)...the days of the original Little Rascals (aka Our Gang), where boys and girls found that each other had the dreaded cooties. And where the boys, in a determination to regain and retain their power, established the 'He-man Woman Haters Club'.
But there was one group that established the original Club 1,297 years ago...
There are 177 verses in the Quran that have the word "women" in them, including such texts as:
Translation of Sahih Bukhari: Volume 4, Book 54, Number 464: Narrated 'Imran bin Husain:

The Prophet said, "I looked at Paradise and found poor people forming the majority of its inhabitants; and I looked at Hell and saw that the majority of its inhabitants were women."
And:
The Quran in Sura 4:11 says:
"The share of the male shall be twice that of a female..."
And:
Translation of Sahih Bukhari: Volume 3, Book 48, Number 826: Narrated Abu Said Al—Khudri:

The Prophet said, "Isn't the witness of a woman equal to half of that of a man?' The women said, 'Yes.' He said, 'This is because of the deficiency of a woman's mind."
Oh, I don't know...too much sweet talk for me, I'd say...
In the case of The Little Rascals, they formed the He-Man Woman Haters Club, because...being prepubescent boys, they see girls as the 'enemy' (that is unless your name is Alfalfa and a girl named Darla winks at you). But detestation was never in their tiny little hearts...
On the other hand, in the case of Islam...hate for women IS indeed in their hearts and minds...and a wink from a girl...will anger them to murder.
Little boys eventually get over their opposition to girls and withdraw from the Club. But as far as Muslim men go? They have been carrying their membership cards since the 7th century...and don't plan on relinquishing them any time soon.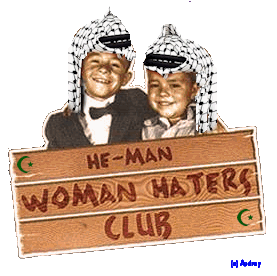 Comments: audrey@audreyrusso.com
---
A New Slogan: WWMS
May 12, 2010
We're all familiar with the slogan WWJD (What Would Jesus Do). It was born out of Charles Sheldon's 1896 novel In His Steps, where the lead character suggested that if each person asked "What Would Jesus Do?" with each decision they made, then the world would be a better place.
I say, with the resurgence of Islam, Mohammedans deserve a slogan of their own: WWMS.
What does it stand for, you ask? Why it stands for the most important question in Islam: Who Would Muhammed Slay.
Hmmm...quite a menu, according to his writings.
Jews (aka in Islam: Apes and pigs)

Christians (aka in Islam: Pigs and dogs)

Assorted infidels including: Hindus, Buddhists, etc.

Apostates (those who leave Islam)

Adulterous women (but not adulterous men)

Disobedient women (disobedient to their husbands in ANY way)

ANYONE who insults Islam (which is extremely ambiguous)

Homosexuals

A woman/girl who brings shame on her family, also know as an 'honor killing' (and the list of offenses that provoke the murder is amorphous)
And the list goes on...and I'm sure you all can name a few...
I think this is a must, and it should come with a list of Quranic reminders, so they will KNOW what their founder said verbatim...wouldn't want to misinterpret the prophet, now, would they? They haven't yet...
So the next time you meet a Mohammedan, help them remember their leaders peaceful precepts by asking them: WWMS?
Shalom through strength...
Comments: audrey@audreyrusso.com
---
Demonizing Our Defenders
May 11, 2010
Ungrateful wretches have a propensity to bite the hand that feeds them. And so is the case with the media and entertainment in the US. There has a been a subtle, yet efficacious demonization of our troops in process since the Vietnam War. And now...it's not so subtle...
Is this an intentional act? Yes and no. The detestation of the armed forces is a deeply held belief of many on the Left...and this ever-abiding position cannot help but surface...as it did with the hatred for the Jews before WWII. Out of the abundance of the heart, the mouth speaks, the hand writes, mindsets are revealed.
So you ask, where is this anti-military evidence?
It's done in a clever fashion...just under the radar.
In TV/Movie scripts, we find: A mentally deranged killer found to have trained in the military. It's revealed that a violent rapist served in Spec Ops, etc..
In news stories: Troops indicted for killing civilians (failing to mention the 'civilians' were actually insurgents). Soldiers/Marines storm a home (omitting the fact that the 'home' was a hideout for jihadists).
And by anti-war liberal politicians, such as the late Rep. John Murtha (D-Pa.) and then-Sen. Barack Obama (D-Ill.) to mantle all American troops as "murderers" and "terrorists" out to "kill innocent civilians."
And so on...daily, boldly, with a subliminal affect. And the result is a populace that is prone to believe the worst of our warrior heroes.
This is an encoding that is vile to its very core. And the ONLY way to address it is incident by incident. When you encounter a subtle slam on our troops in TV, Film or the News...call the perpetrators out on the carpet. Planting this image of our military in the minds of an audience is no longer acceptable. And it needs to cease, post haste.
Our defenders face far worse for us...we can at least do this for them.
Shalom through strength...
Comments: audrey@audreyrusso.com
---
November's Coming: Time To Put Out The Trash
May 7, 2010
OK...I'm done. These politicos need a lesson ONLY learned with a physical encounter...with the unemployment office.
'We The People' entrust our precious votes to these individuals, NOT because we need them to lead us by the nose. NOT because we required a second mommy or daddy. BUT rather for these public servants to do our bidding...represent US...NOT themselves.
Apparently, this is beyond their comprehension.
But fear not...there is a cure. It's called the 'pink slip'. Delivered by the electorate on November 2nd. It's a boot to the *bum that is long past due. And the citizenry is much more gracious than most employers...we give them more than 2 months to make other plans for their future.
Have they been warned? You betcha! But no matter how vociferous the cry of the people...their employers...was, they continued to do their own will AGAINST the will of the people. And when the people took to the streets (i.e. Tea Parties; Town Hall Meetings)...they were met with verbal barbs, disparaging rhetoric and outright lies about them by their representatives, aka employees.
So what's a citizen to do? Kick their ever-loving Aunt Fanny out to the curb...all with the simple pull of a lever.
November's coming...time to take the trash out.
*bum - Brit/Aussie for buttocks.
Comments: audrey@audreyrusso.com
---
Peace Through Stupidity?
May 6, 2010
Yes, people...he's a SUPER GENIUS, that Barry. In his long and carefully amassed knowledge on warfare, Barry has proved he's a 'whiz kid'...under the dunce cap.
Obama whipped Reagan out of his pocket when he wanted to make a lame analogy to the Gipper, but he could learn a major lesson from Ronnie, if he wanted.
On March 23rd, 1983 Reagan laid out a strategy that he knew would keep our nation safe:
"The defense policy of the United States is based on a simple premise. The United States does not start fights. We will never be the aggressor. We maintain our strength in order to deter and defend against aggression – to preserve freedom and peace. Since the dawn of the atomic age, we've sought to reduce the risk of war by maintaining a strong deterrent and by seeking genuine arms control. Deterrence means simply this: making sure any adversary who thinks about attacking the United States, or our allies, or our vital interests, concludes that the risks to him outweigh any potential gains. Once he understands that, he won't attack. We maintain the peace through our strength; weakness only invites aggression"'
"Weakness only invites aggression." Brilliant and time-tested! But in order to properly comprehend this, one must not only possess intelligence, but discernment...better known as wisdom. Which is sadly lacking in O's curriculum vitae.
The culmination of Obama's no-nukes dream is reflected in a new strategy, known as the Nuclear Posture Review, which reduces U.S. reliance on nuclear weapons for its national security by constricting potential U.S. nuclear targets. That echoes Obama's pledge to move toward a 'nuclear-free world'. With loonies like Kim Jong Il and Ahmadinejad running around loose, a nuclear-free world is an unequivocal impossibility. To reasonable and rational individuals, that is...of which Obama has proved to be neither.
Ahmadinejad has made it clear that he believes he is 'called' to prepare the way for Islam's 12th Madi...and that dictates that he must create chaos in the world...and there's no better way to foment that chaos then with a mushroom cloud.
Peace (Shalom) through strength is a proven strategy...but THIS is not the path Obama has chosen for our nation...and that spells disaster. History is littered with fools who have taken the Chamberlain road to "peace for our time" through weakness and acquiescence...but that course has led to the death and destruction of innocents. The only conclusion at which a reasonable person can arrive is that Obama believes that peace can be reached through stupidity.
And that's no peace at all...
Shalom through strength...
Comments: audrey@audreyrusso.com